French potatoes, ti si starší pamatují ze školních jídelen i z domova. Ale! It vastně potatoes were genuine French! The French potato in fact gives cream. A připravují se bez masa a ze syrových brambor! Also I remember them, jak se doma dělávaly – z vařených. When the cook, You must wait until cool. A že znáte francouzské brambory s uzeninou nebo zeleninou? It's reportedly just (I doubt) Czech version. French baked potatoes somewhere in France served as an annex, elsewhere as a main course. Tenhle recept na francouzské brambory se smetanou a ze syrových brambor pochází z francouzské oblasti Dauphiné. But because I wanted to try a completely new taste, I added chorizo. It's actually a Spanish or Catalan specialties. The Portuguese are similar - pudding, ale nemá se s chorizem zaměňovat. Spíše jde o citlivost s národní příchutí… Takže zůstáváme na Pyrenejském poloostrově a poblíž… Just a little farther gouda, But to taste, find, it is not that important, jen jsem si trochu pohrál s místopisem…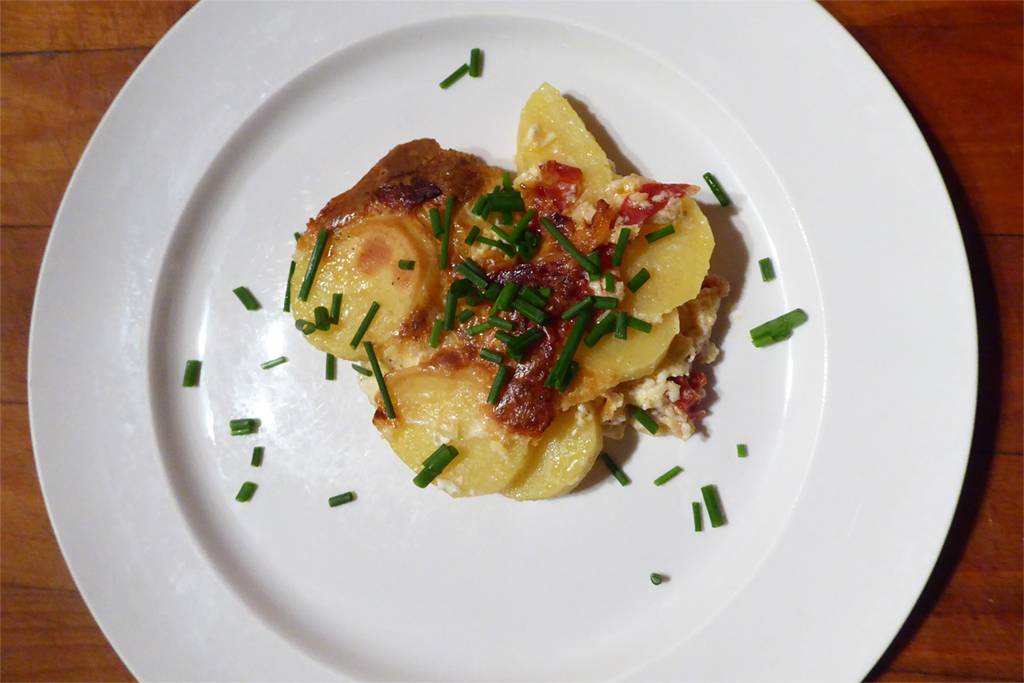 Garnished with chives are great!
.
Need:
4 potatoes
cup cream
2 stroužky česneku
butter
salt
pepper
nutmeg
60 g goudy, nastrouhané
60 g choriza
(Adjust the amount according to the number of diners, This gives the issue and about four.)
.
How do you:
Brambory sloupeme a nakrájíme na plátky. Vlažíme je do mísy s vodou (You can now slightly salted). Garlic wiping the, chorizo, cut into small pieces.
By misky vlijeme smetanu, then put it in potatoes, které jsme před tím scedili a osušili (cloth or paper towel well served), Add the sliced ​​chorizo, salt, pepper, a ještě přidáme trochu nastouhaného muškátového oříšku (Attention, je dost aromatický!). Potatoes should remain submerged in cream! Now we can add more cheese nastouhaný.
The mixture is then filled into the baking dish, kterou jsme vymazali máslem a – česnekem! You do not have layers peen, just gently settle spoon. Vše pak zalijeme zbylou smetanou z misky. Do brambor rozklepneme vejce a promícháme. A little straighten.
Vložíme do trouby předehřáté na 140 °C a pečeme asi 45 until 50 minutes. If you are at the end of cooking potatoes seem too bright, Turn the oven on 160 nebo i 180 °C a hlídejte si, to overdo it. The higher the temperature really just a few minutes, insight into the oven disclose moment, kdy musí zapékací miska z trouby ven.
When serving, you can still sprinkle with chopped chives. Not only for refreshment appearance, ale i pro přidání další chuti.
Finished.
Enjoy your meal.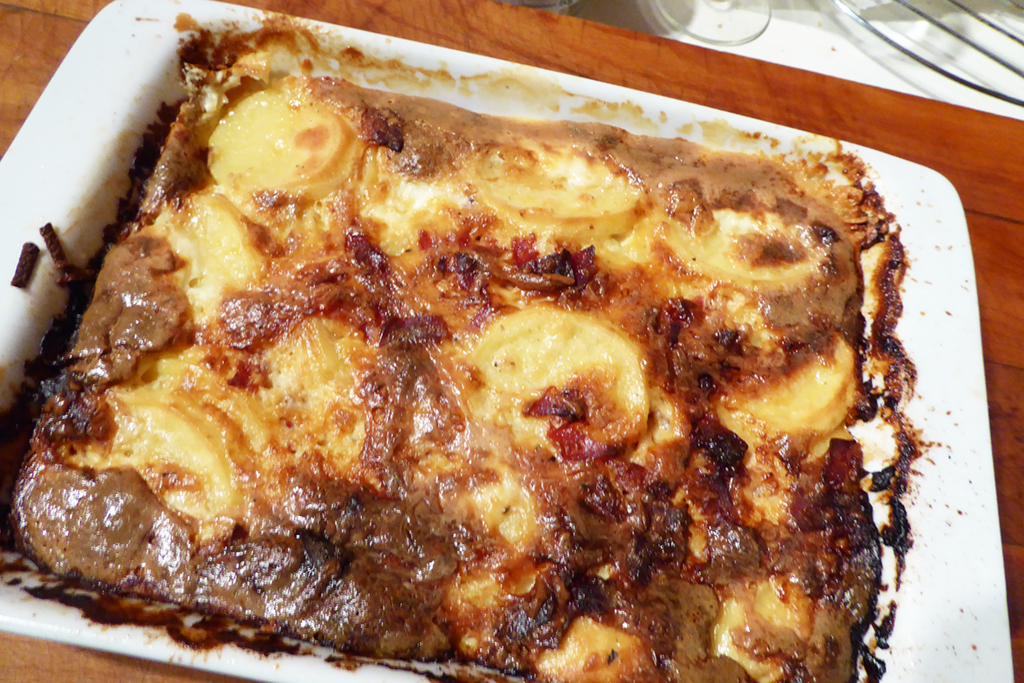 The last phase of increased temperatures well watch. Chcete mít přece jenom zlatavou krustičku a ne briketu!
CO IT IS chorizo a pudding? ––>•
---
Rebound from food: Name something that reminds Dauphiné?
Určitě jste ho slyšeli v historických filmech z francouzskou tématikou. V historii Francie vznikla tradice, že francouzský korunní princ obdržel při svém narození území Dauphiné i s titulem dauphin (similarly the English crown prince's title princ z Walesu or the Spanish Crown Prince kníže z Asturie). Dauphin (Erg. [dófén], French dolphin) He was noble title belonging to the firstborn sons of the French King a následníkům French Throne. Titul se používal v letech 1350 until 1791 a 1824 until 1830. Second-born sons (v případě jejich úmrtí další mladší synové) French kings gained title Duke of Orleans (franc. Duke of Orleans). Already, I think, že figurovali oba v Angelice… Maybe you have something called the city of Grenoble, City of Winter Olympics 1968, tak to je v Dauphiné.

Winter Olympics 1968?
Jiri Raska in ski jumping on the normal hill for Czechoslovakia won the first ever gold medal, k níž ve skoku na velkém můstku přidal ještě medaili stříbrnou. V památném hokejovém utkání porazili hokejisté vedení kapitánem Jozefem Golonkou po dlouhých letech tým SSSR a jen krůček – jeden gól v závěrečném utkání se Švédskem – jim chyběl k zisku zlaté medaile. Bronze medal successes have contributed to the collection also skating Hana Mašková. That with the years…