Pork tenderloin Wellington brews popular Mr. Cuketka by Gordon Ramsey, who had discovered her, boss of bosses Pohlreich, Koko v reakci na oběd v restauraci, I think it was a black horse, i Kluci v akci. A každý trochu jinak. Před třemi lety jsme ji objevili pro recept v časopise, where I worked, a vyzkoušeli, It was magic. Když se objevila v menu pořadu Prostřeno, nebylo soutěžícím v kulinářském pořadu jasné o co jde, což se dá i pochopit, no, understand, matně někdo z nich tušil a pak to celé spláchli při hodnocení jako jednoduché jídlo, which does not give any job. Tenhle pořad u nás běží, but I'm not his fan, messages such as "Polníčkový salad? do not buy it, I'm not a rabbit!" they are poor. A než by někomu upadla huba, to say, it was good, rather say, že je to jednoduché a že smíchat pár věcí dohromady není vaření. Obzvláště rostu u sdělení "This is addressed to me!" a jenom čekám, that there will be some wag, the food speaks. To by byl nejpíš úprk středem a všichni by mi vyskákali z obrazovky. Whether you'd better stay!

Ale zpátky k panence Wellington, tu si dneska užijeme a vychutnáme. Prošel jsem si recepty v tuzemsku i zámoří a extrahoval jakýsi základní postup. Pokud jste vyzkoušeli recept na čínu z panenky a fazolek, will you, že mě Wellington napadl už při kupování panenky. So hopefully there will be enough time serving for two…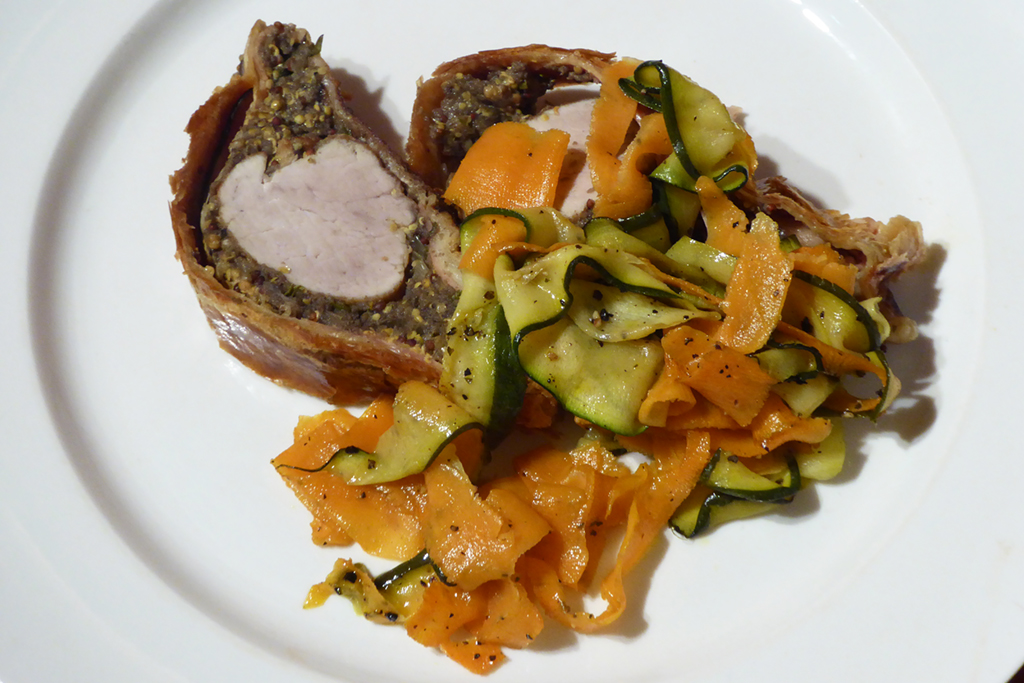 The doll you just need to deliver the vegetables in butter
.
Need:
150 g pork tenderloin
puff pastry
150 g žampionů
2 tablespoons mustard
100 g bacon or Prosciutto
šalotku
fresh rosemary
fresh thyme
1 egg (only yolk)
olej
kousek másla
salt
pepper
mrkev
cuketu
a little white wine
a little white wine vinegar
necessary aid: potravinová fólie a pečící papír
 
How do you:
doll odblaníme, žampiony nakrájíme na kousky a pak je rozmixujeme na malé kousky (neudělejte si z nich kaši!). Fry the meat on all sides (i na obou koncích, endeavor), to overcast. Posolíme ho a opepříme, aside the.
Zampino butter rid of water, salt, pepper, add chopped shallot, rozmarýn a tymián (klasicky odrbu lístky a jehličky ze stonků). We get something, what is called duxelles [dyxel].
On plastic wrap top with bacon, pretty little over himself, Measure the width by the length of the dolls. Bacon spoon mushroom mixture, doll rub on all sides mustard (můžete dát i dijonskou, jak libo) a pak všechno svineme do balíčku. The foil will lead. Be thorough, Pack firmly download, aby zmizel vzduch a všechno k sobě víc přilnulo. A fólie vám drží balíček pohromadě. Put in the fridge to chill so on 20 minutes.
Preheat the oven to 180 až 190 °C.
Sheet of puff pastry unpack, vybalíme panenku z fólie a dáme na těsto. Počítejte s tím, že by se mělo po zabalení překrývat. Po okrajích přetřeme žloutkem a těsto přehneme, carefully, to somewhere tearing (otherwise you will help patch, adhesive yolk) - Juice should not be given a chance, flowed to. Zabalíme opět do fólie a dáme tak na půl hodiny vychladit.
Then unpack the dough, dáme na plech vyložený pečícím papírem a těsto potřeme žloutkem. A teď můžete zdobit – nožem naplocho vytvoříme "notches". Posypejte solí a dejte péct asi na 25 until 30 minutes. Panence o průměru 5 cm should be enough 25 minutes. just right, aby těsto bylo zlaté a maso uvnitř růžové a šťavnaté. Then let the more so 10 minutes to rest before going to the doll, digs.
Přlohy actually needless, když už je maso v těstě, but you can add the prepared vegetables in butter, případně do ní ještě kápneme trochu bílého vína a trochu bílého octa (who wants, let it be).
Finished.
Enjoy your meal.
---
KROK SUN KROK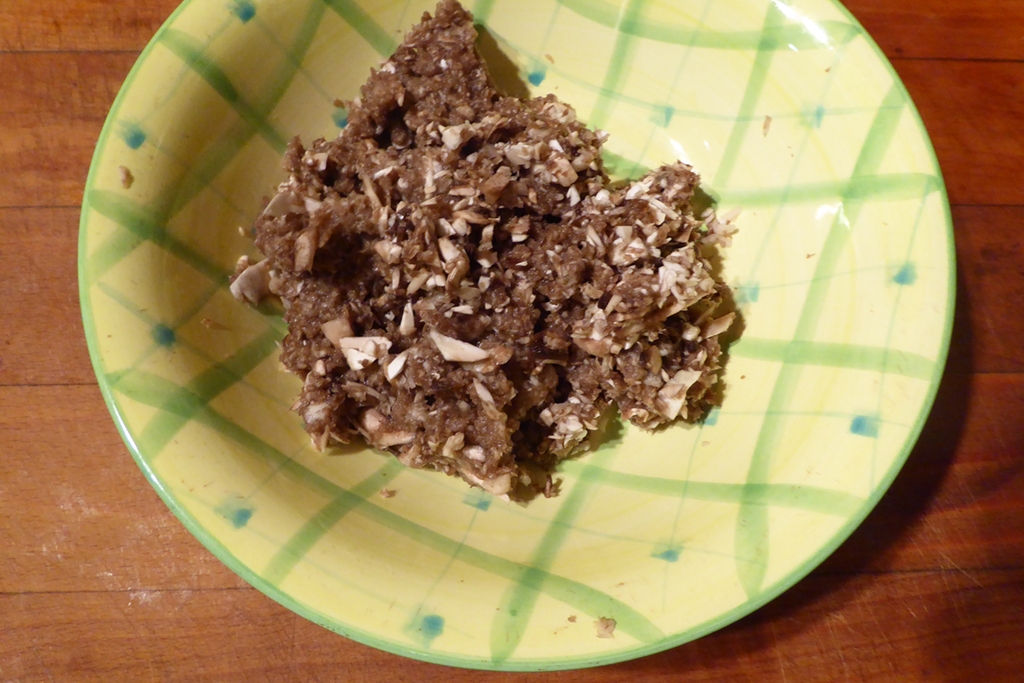 Finely chop the mushrooms finely and mix it, But do not make a mess .
Na másle zbavíme žampionů vody a přidáme k ním rozmarýn a tymián.
Doll fry in oil…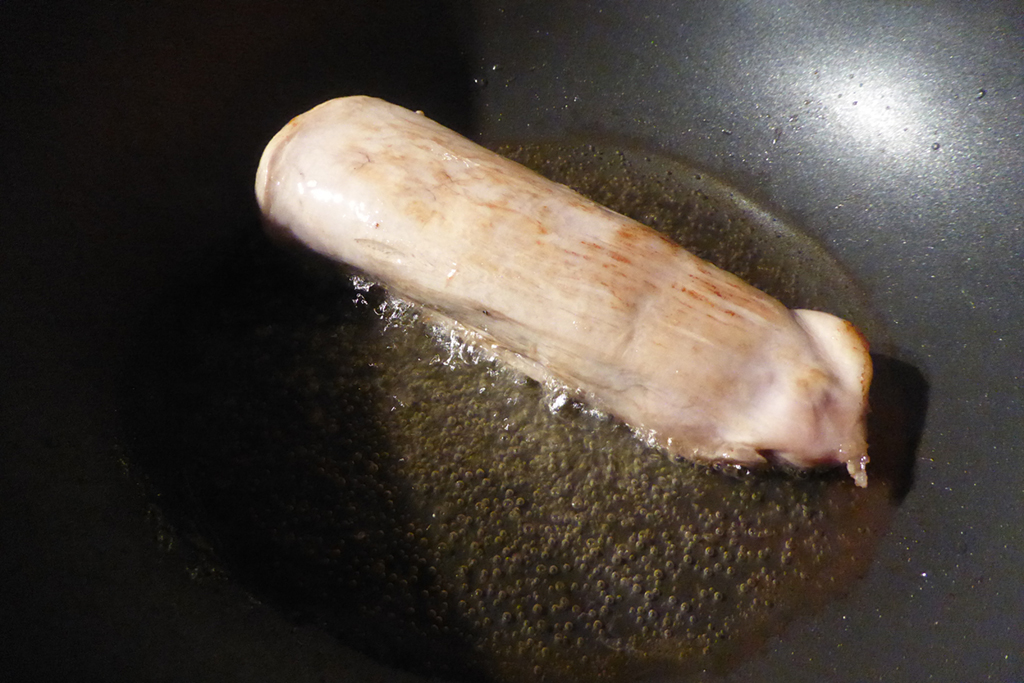 …nicely from all sides…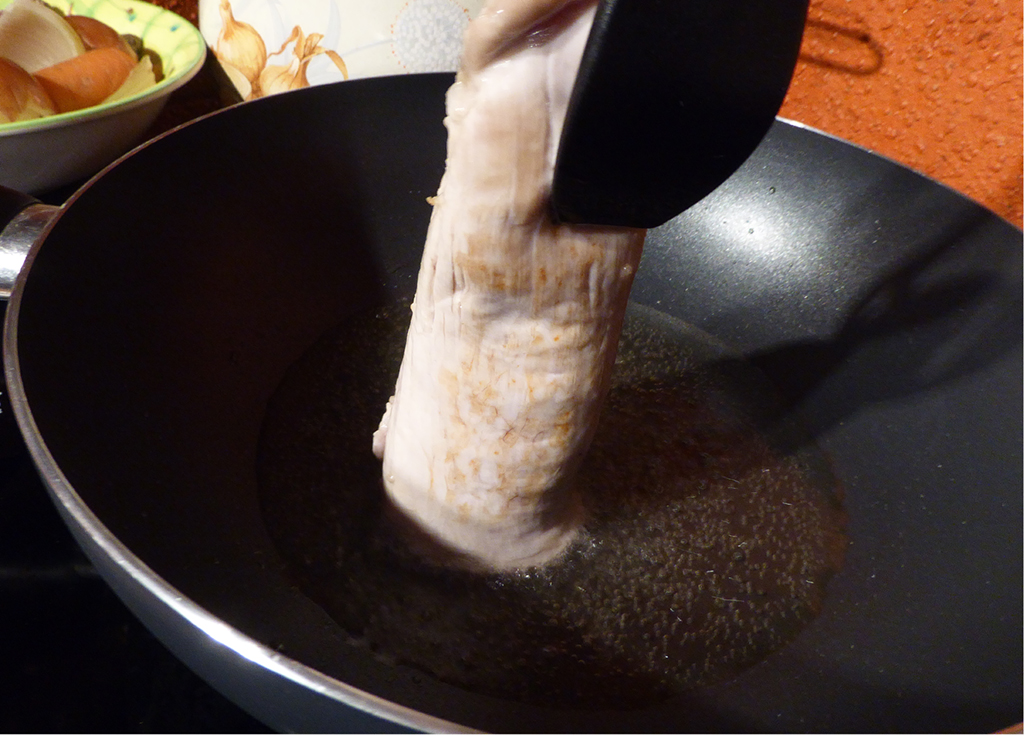 …i na bocích.
Meat must retract.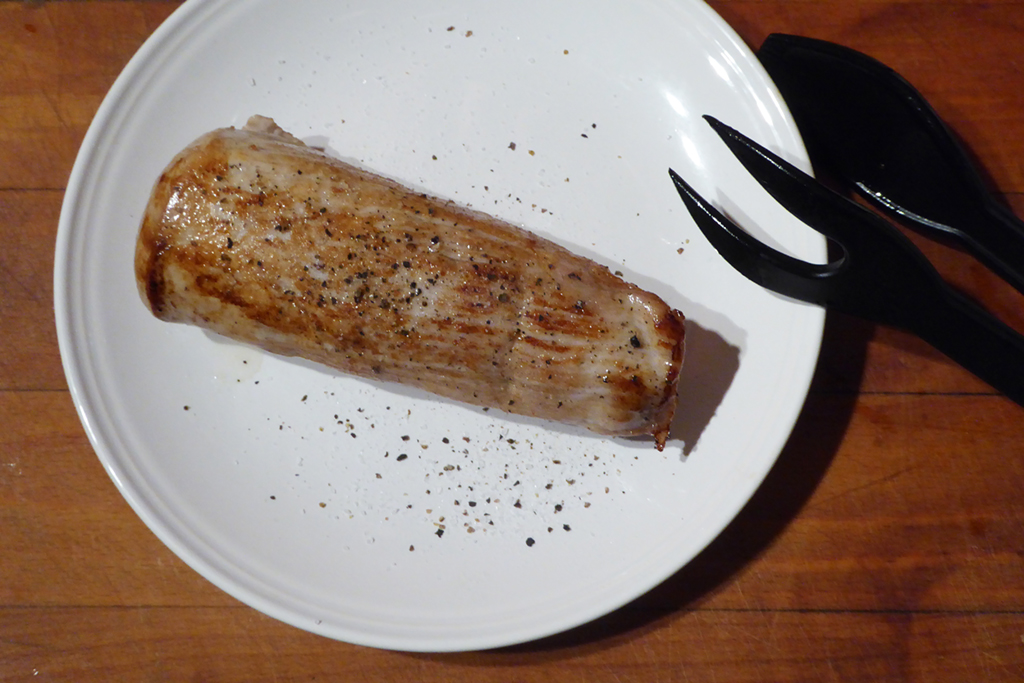 doll with salt, opepříme a necháme stranou.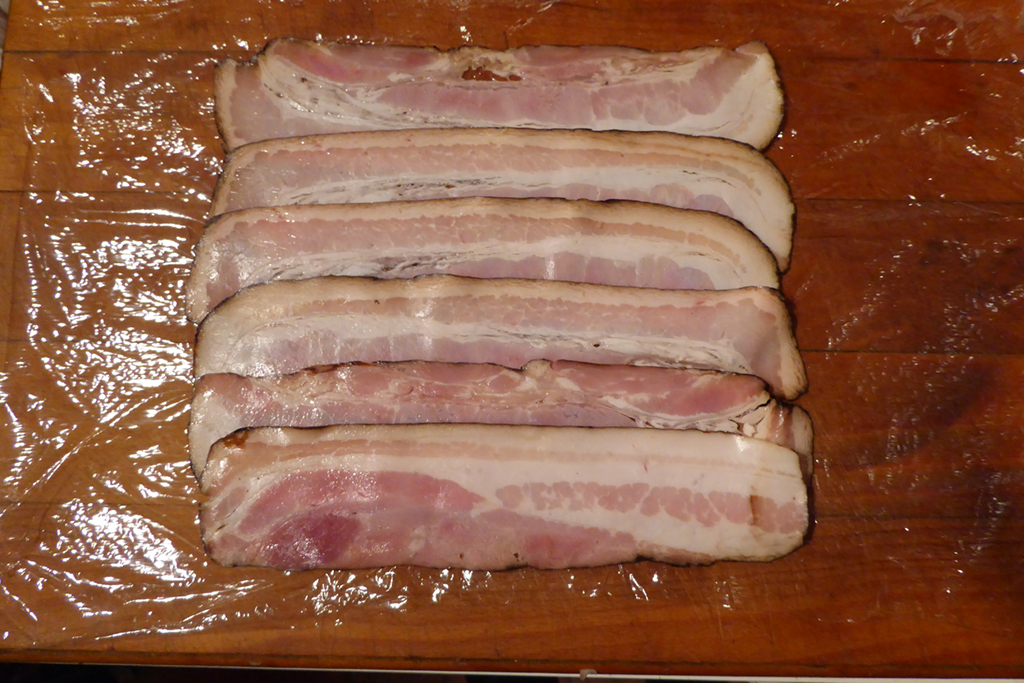 Top with bacon on the foil.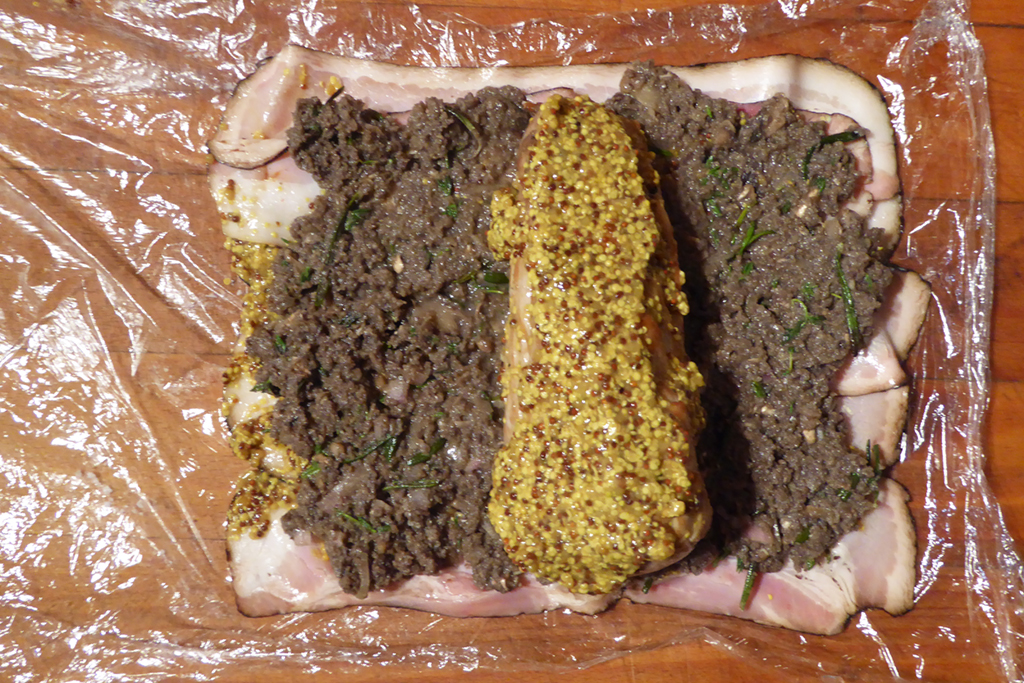 Panenku pmažeme ze všech stran hořčicí a žampionouvou směs rozprostřeme na slaninu, then put the doll on top.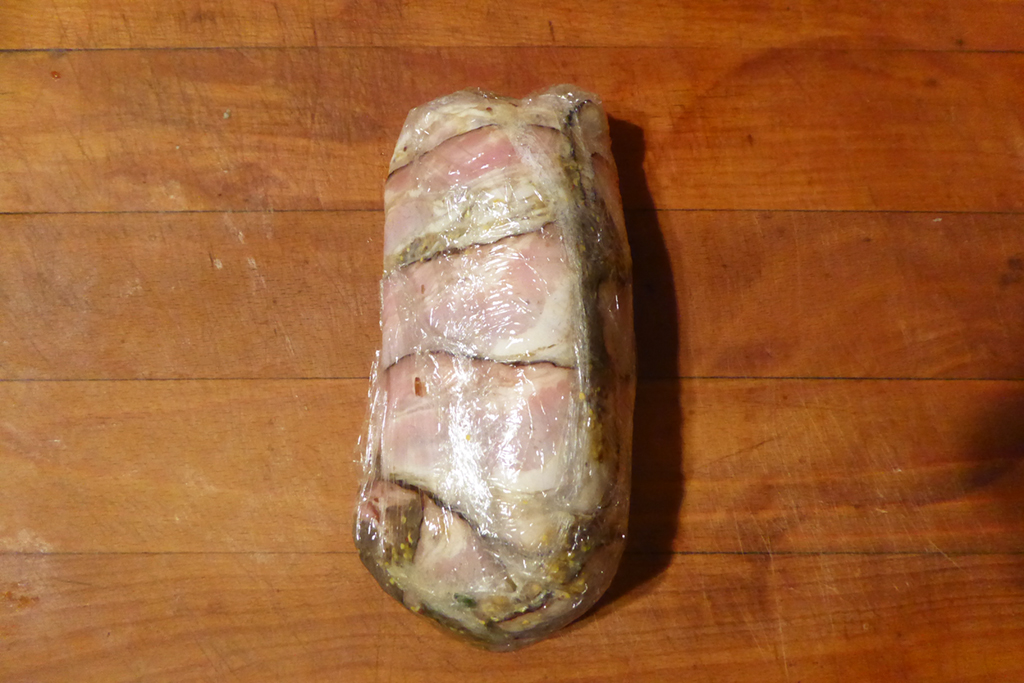 Fólii stočíme a vytvoříme balíček. We'll chill.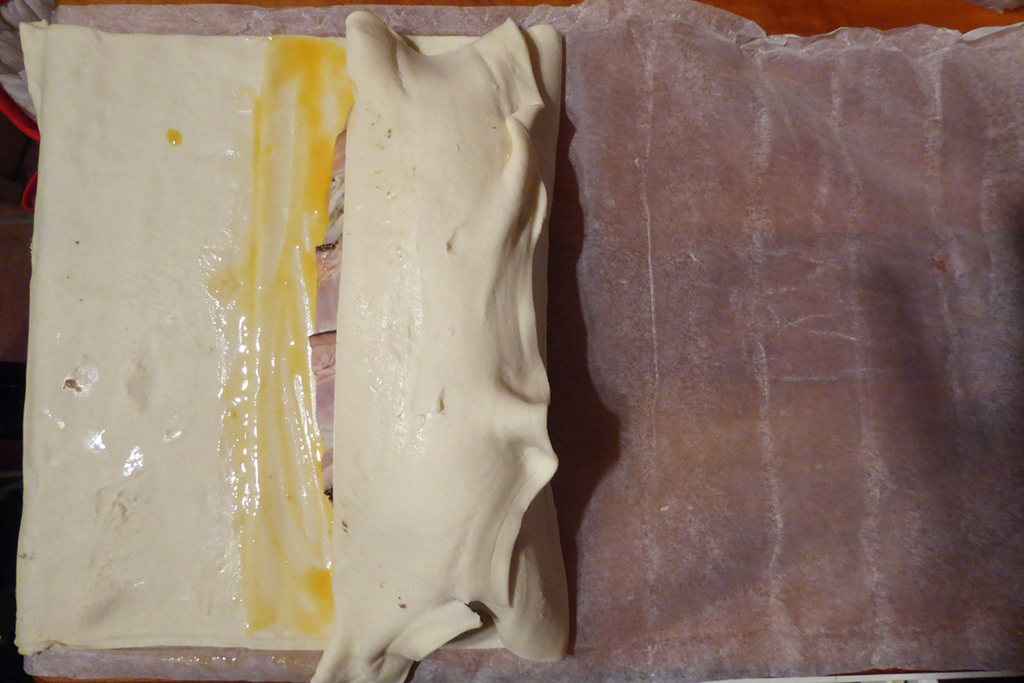 Balíček s panenkou položíme na těsto, tak, so that the edges overlap sufficiently, Spread egg yolk connections. Create a second package, který zabalíme do fólie a dáme vychladit.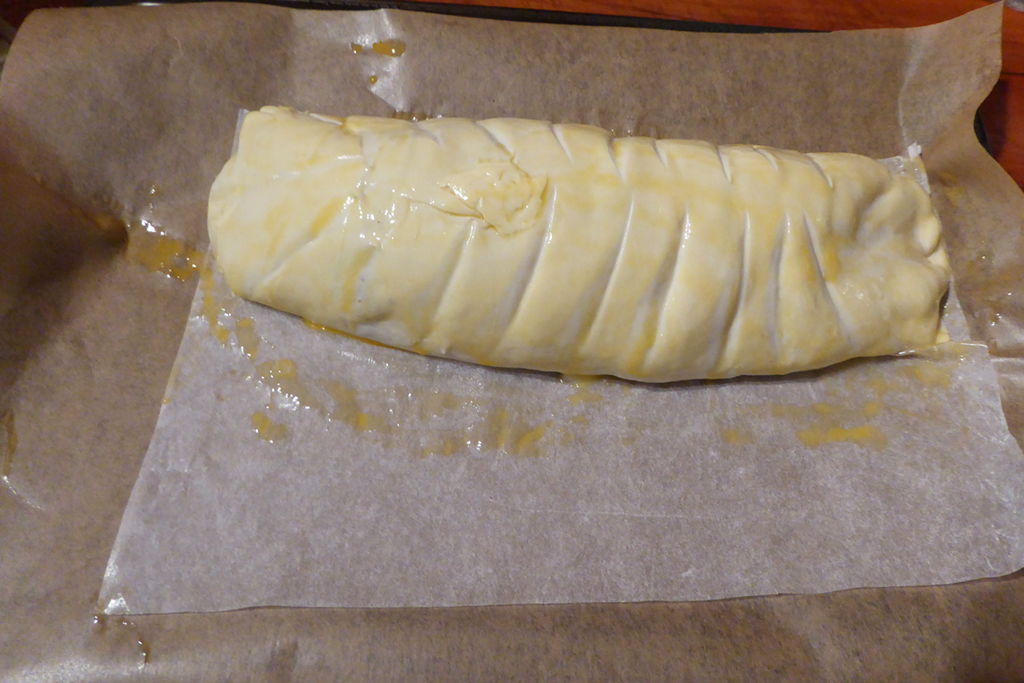 The package put the dough on baking paper, potřeme žloutkem a plochou stranou nože vytvoříme zářezy. To, že nemá být v těstě žádná skulina, kterou by vytékala šťáva dokazuje i moje záplata. A piece of dough simply glue it to the incriminated place yolk.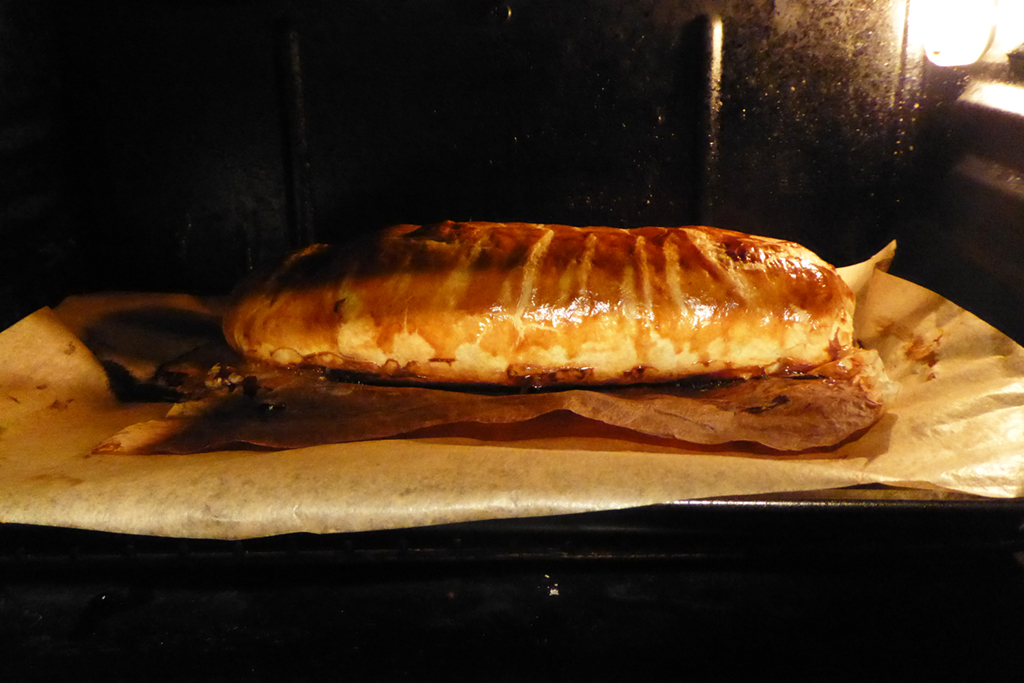 Pečeme při 180 °C asi 25 until 30 minutes.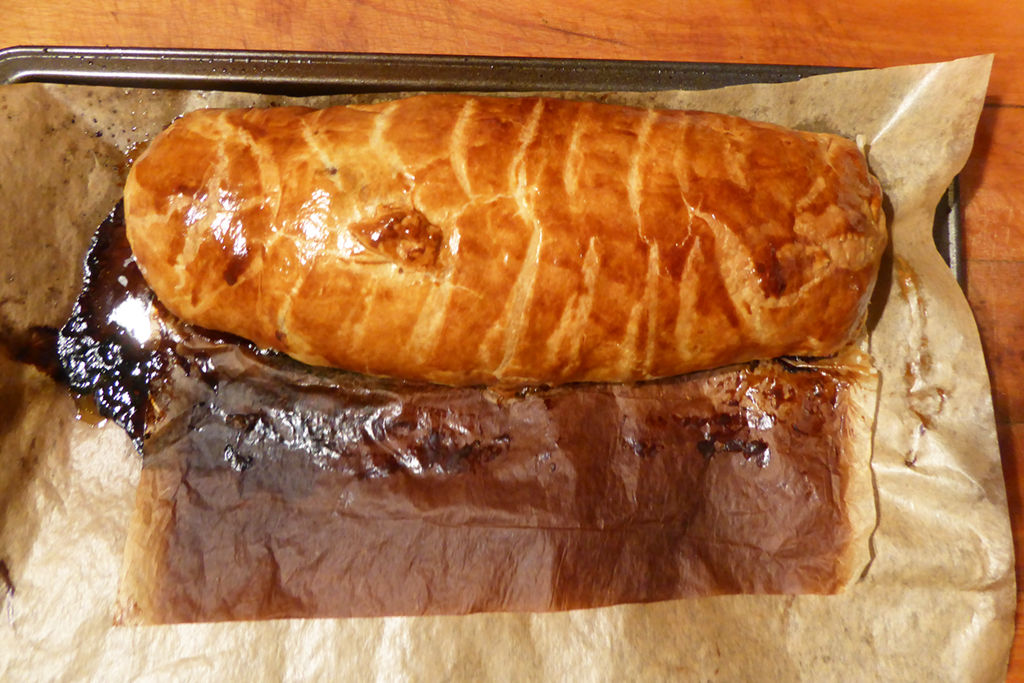 These guests do not have to show. But the result is no longer worth it.
Modelka připraveá k akci. Po upečení nechte ještě chvíli odpočívat a připravte si dost ostrý nůž.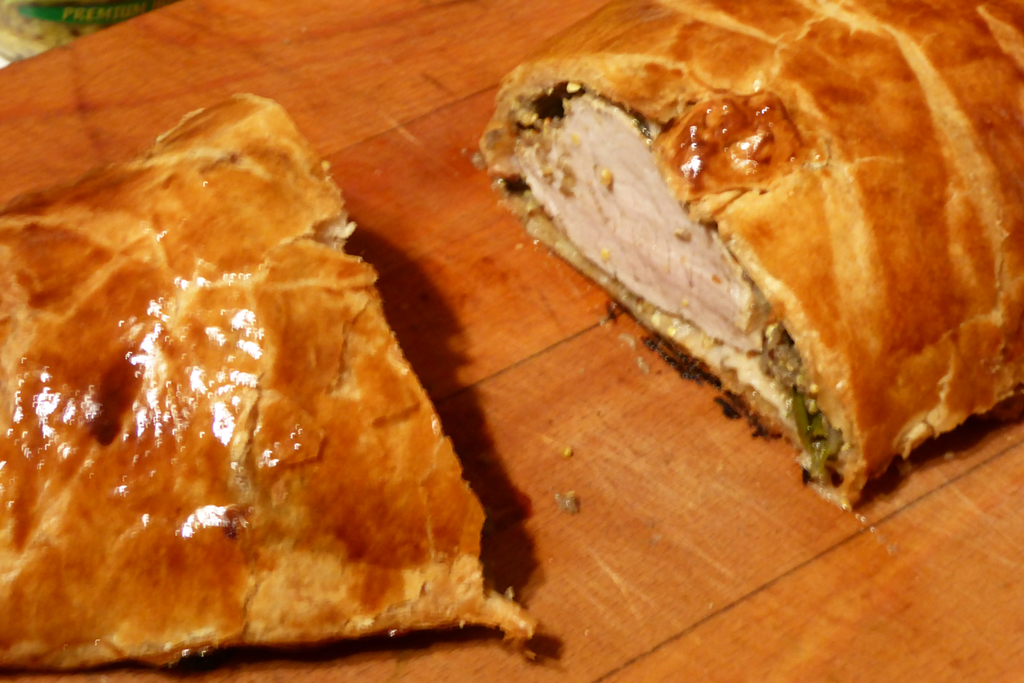 Cross section convinces, you succeed.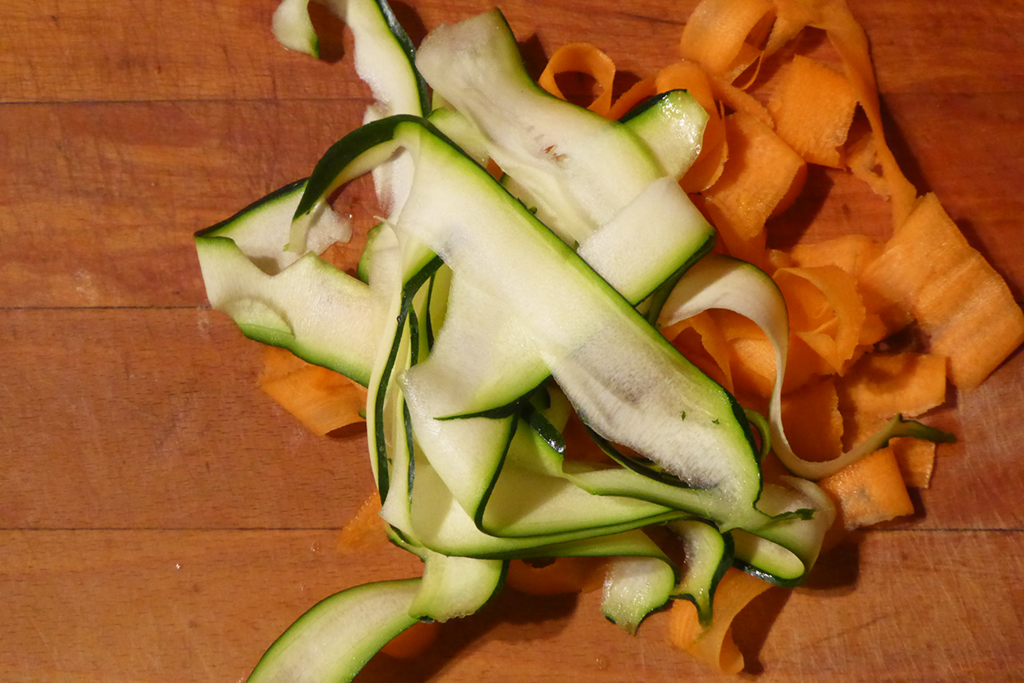 Škrabkou na brambory si vytvoříte jemné nudličky okurky a cukety. Who does not like zucchini, not even know, it is that it.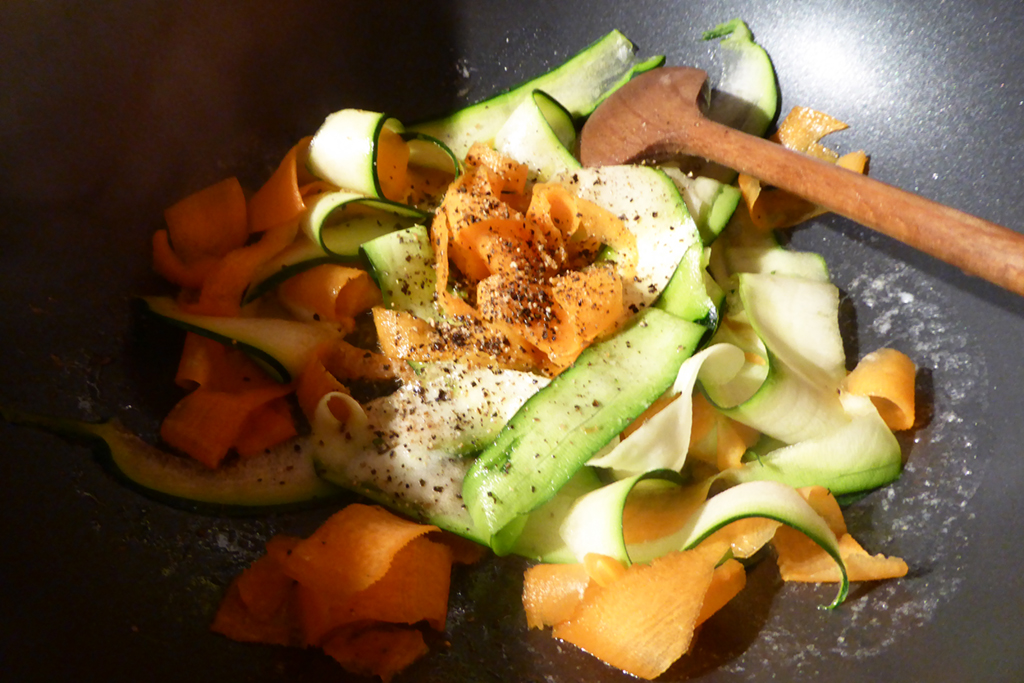 Saute the vegetables in butter. A jak tak na ni koukám, I thought, že bych k ní mohl přicmrndnout trochu bílého vína a trošku bílého vinného octa. Kdo víno a ocet nemusí, might not. salt, pepper.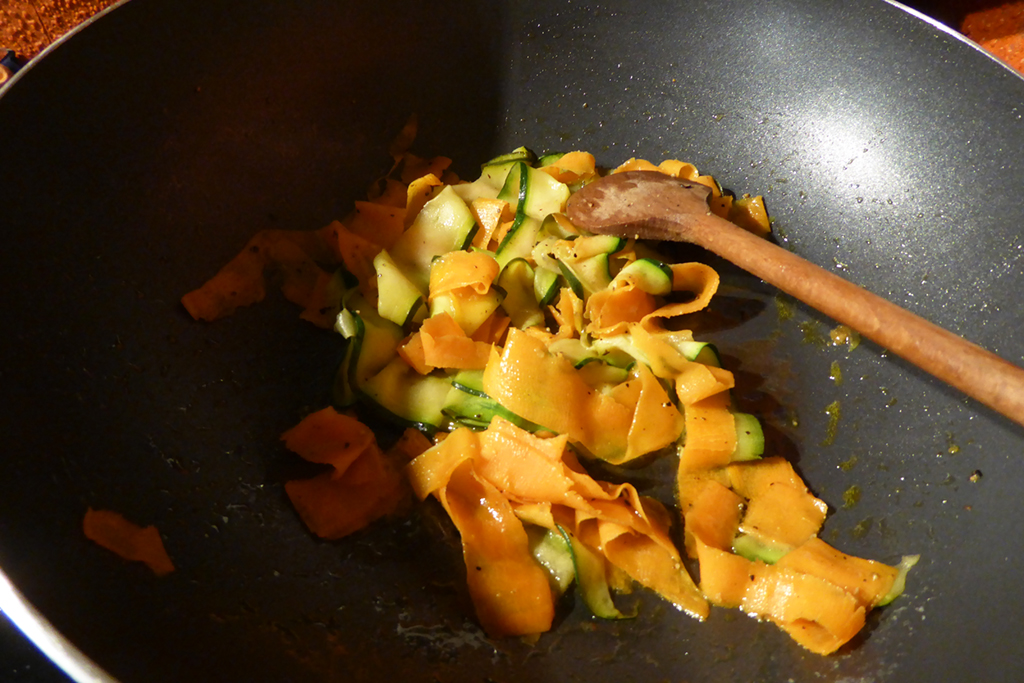 Attachment takes a few minutes.
Finished.