Food, which is known to chronically, not too difficult. Can not miss here, i když mi budete tvrdit, that it can handle every. Already, It can handle, But the recipe is still only fit. I've done it a few times, s různými výsledky. When you have small slices of meat, moc se s tím nedá dělat a na ptáčky možná raději zapomeňte. It's actually roll, takže potřebujete ingredience k zabalení do něčeho zabalit. Jinak u balení budete šílet. Připravoval jsem je v kastrolu, On the pan, but this time I called the oven.

Do not add chopped parsley…
.
Need:
2 larger slices of beef sirloin
3 lžíce sádla
2 tablespoons flour
mustard
hard-boiled egg
sausage or a cigarette
smoked bacon
3 cibule
pickles
beef broth (This time I had to help out the bathwater concentrated)
salt
pepper
Food string
 
How do you:
Sliced ​​meat tenderize dotenka. Suitable for a food film. Put on the foil sheets, překryjete další fólií a klepete. Od středu k okrajům. Jak když Luděk Sobota rozklepával v Jáchymovi nýtek… Who did not see the movie, zvládne to i bez toho. Slices of flattening, the nepotrhají, because it prevents the film. However, do not do them beating like crazy.
Sundáme fólii a plátky posolíme a popřepříme. A potřeme hořčicí.
If you have a smaller egg, use the whole or greater překrojte half or quarter. Cut the onion into quarters, other onion finely. Small cucumbers let the whole, greater lengthwise into quarters. Sausage nekrájíme, just adjust the length, aby se do závitku vešel a přitom by na plátku měl ještě zůstat volný okraj. When you're packing, understand why. It's just more comfortable.
Na plátky s hořčicí poskládáme cibuli, cucumber, sausage, You can still add the loin smoked bacon, a nezpomeneme na vejce.
And now we start packing spire. Začněme rolovat maso těsně k náplni, Turn up the edges of the wafer, has created a kind of pocket, jinak se vám všechno rozpadne už při balení. Package meat food outweigh string. I tried only frequently mentioned toothpicks, But much will it not work out, s ptáčkem v kleci z provázku se lépe manipuluje.
Bacon cut into small cubes, rozpálíme sádlo v kastrolu nebo na pánvi a přidáme slaninu, po chvíli i drobně nakrájenou cibuli. Opékáme a mícháme, until onions turn brown.
Now is the turn of smaller maneuver, if you do casserole, který by obstál i v horké troubě. Upřímně – kastrol s umělými uchy jsem nikdy neměl odvahu dát do trouby.
Troubu předehřejte na 200 °C.
Přendáme onion to pan base, vložíme ptáčky a zalijeme trochou vývaru nebo vody, just enough, aby se cibule nepálila v troubě. Vložíme do trouby a pečeme asi tak 15 until 20 minutes, aby se maso zatáhlo a získalo zlatavou barvu. Otočení ptáčku v pekáčku během pečení není na škodu. Then remove the pan, pour broth and, It has submerged birdies and three čtrtin, then retract (I do not even know, if my pan had a lid ever, k zakrytí poslouží čepice z alobalu). Dáme zpátky do trouby a dusíme asi 45 until 50 minutes.
Měkké ptáčky si dejte stranou a přiklopte, so totally not cool, šťávu přelijeme zpátky do kastrolu nebo na pánev a za občasného míchání redukujeme. Then add flour, fry, vmícháme ještě lžíci hořčice a zalijeme vývarem, or hot water, když přidáte ještě trochu láku z okurek, juice will taste better. Šťávu prošleháme metličkou a prováříme asi 30 minutes. Pak šťávu přecedíme přes jemný cedník a vrátíme na vařič.
The other day I came across a recipe, který doporučoval přidat v závěru nasekané kapary. Tak jsem si je připravil a ve finále na ně úplně zapoměl. I think, that the exam is it.
Status season with more salt, pepřem a možná ještě trochou láku, Let boil a minute. Do juices back birdies, přiklopíme a odstavíme z vařiče.
Finished!
Podávejte s rýží.
Enjoy your meal.
 
KROK SUN KROK:
On the first hot lard to fry the chopped bacon Kotick, to begin vitreous, pak přidáme nadrobno nakrájenou cibului a restujeme, to obtain onion is golden brown.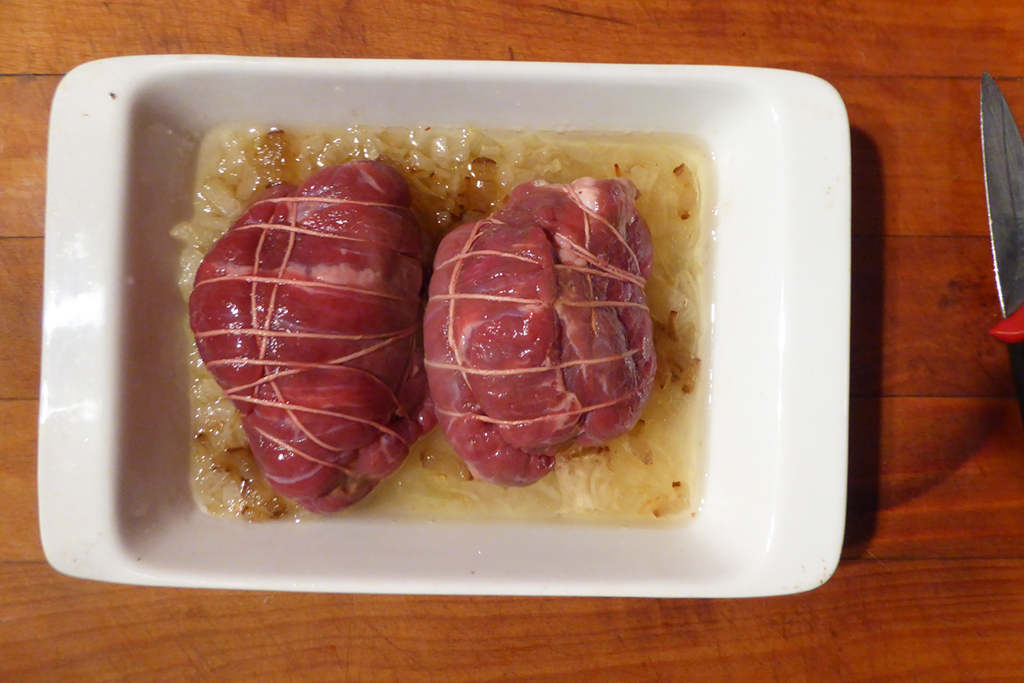 Onion base filled into a baking dish, Put the wrapped birds, add about two ounces to water (just enough, aby se cibulka při pečení nepálila), dáme do trouby předehřáté na teplotu 200 °C a pečeme nezakryté asi 15 until 20 minutes, that meat overcast.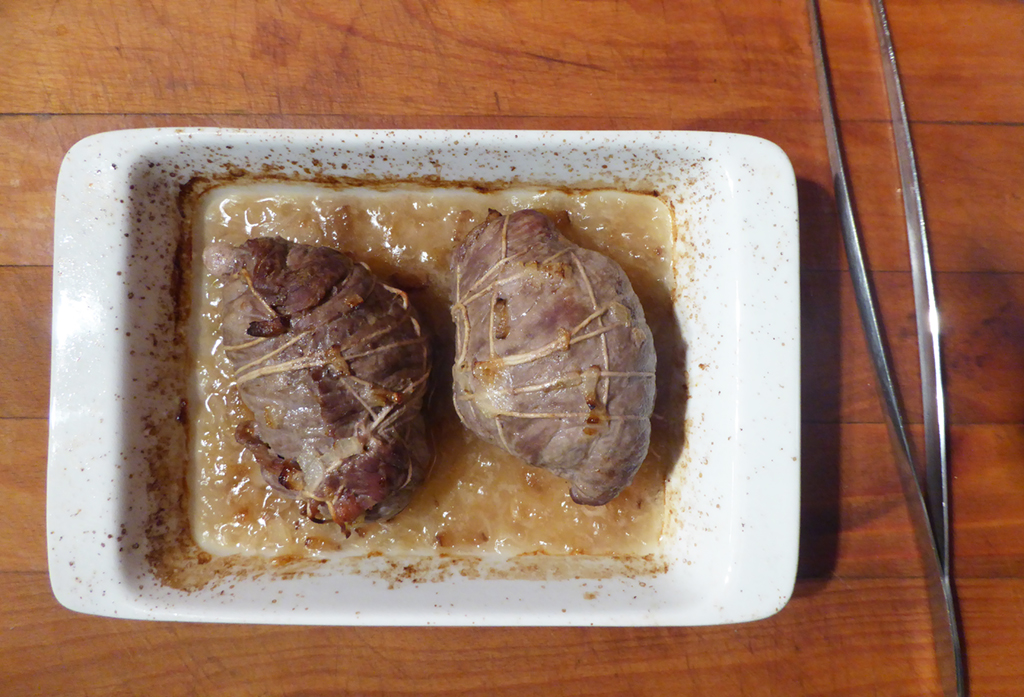 Vyjmeme z trouby, birds and pour broth, that about three quarters immersed, zakryjeme poklicí nebo alobalem a vložíme do trouby. Bake 45 until 50 minutes.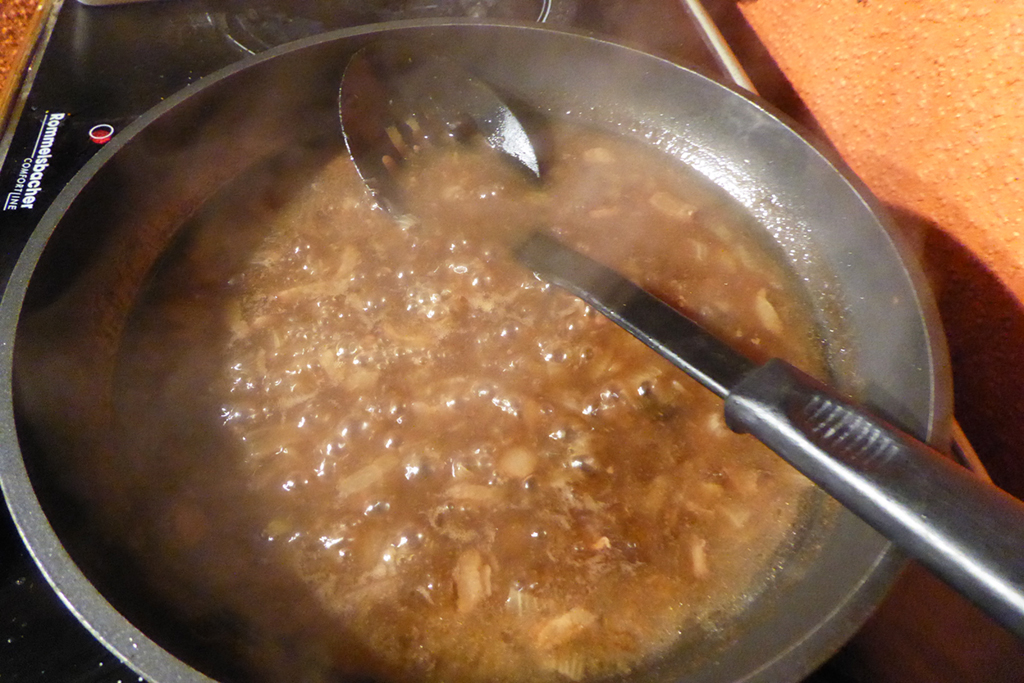 Birds set aside (Cover is, so not cool down too), Onion juice pour into the pan, zredukujeme až na tuk, we mix flour, fry, přimícháme lžící hořčice a zalijeme vývarem. Prošleháme. Simmer. Můžeme přidat i trochu láku z okurek. Simmer yet 30 minutes, then strain it through a fine sieve. Return to pan, salt, pepper, vrátíme ptáčky a můžeme ještě kápnout trochu láku. Zakryjeme a odstavíme.
Egg, pair, cibule, okurka – ukrytá dobře v masovém závitku. Enjoy the Spanish bird…