Should be Martin's goose, but somehow nezadařilo. Without the geese it just does not. What about trying something different? A young duck or maybe a rabbit? around? Pro dva? So what rabbit legs? To by šlo. Z dětství si pamatuju pečeného králíka docela často, byl z domácího chovu – a také si pamatuju na sklízení sena a práci kolem, but I always prefer the front foot. He used to be, I think, se zelím a bramborami nebo knedlíkem. Dneska se po létech ke králíkovi vracím v rámci dobrodružné výpravy, sahám po stehnech. How all this will turn out? Prošel jsem si pár receptů odevšad a něco si složil.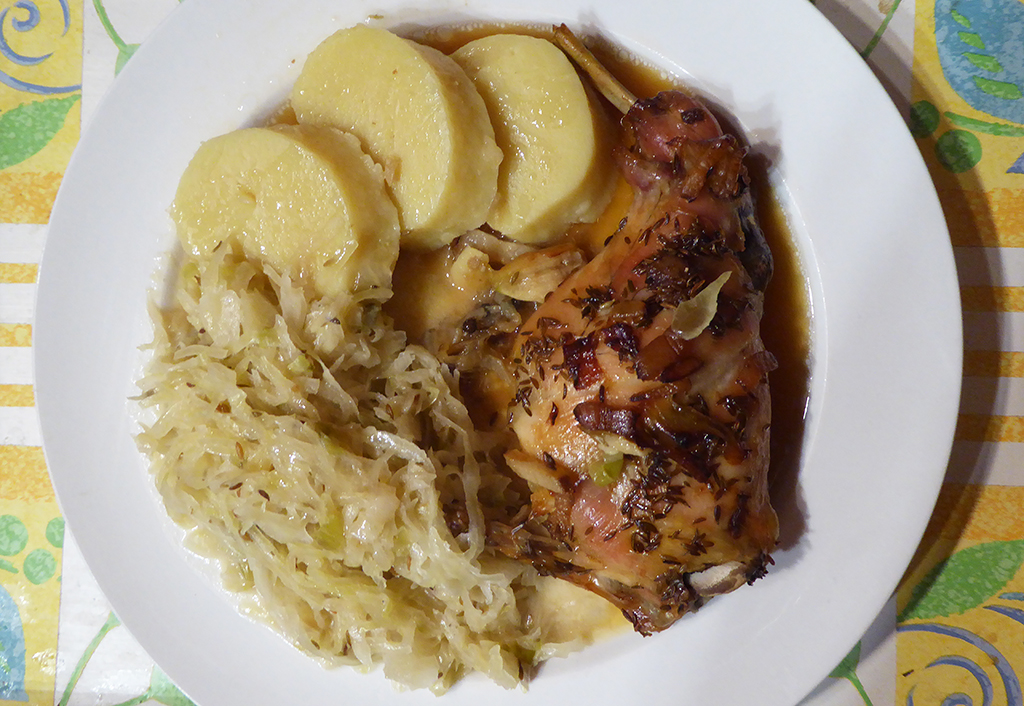 .
We need:
2 rabbit legs (ca. 500 g)
2 lžíce sádla
1 cibuli
5 stroužků česneku
50 g bacon
kmín
salt
Several peppercorns
100 ml vody
 
How do you:
Cibuli nakrájíme na půlměsíčky a uděláme v pekáči pro maso pelíšek. salt meat, spread with lard, add chopped bacon, stroužky česneku, that just crushed flat knife, Several peppercorns, pokmínujeme a podlijeme vodou.
Cover the casserole dish (mám ve zvyku sáhnout po alobalu) a dáme péct do trouby předehřáté na 200 °C. Bake 90 minutes, pak odkryjeme Crack, maso přelijeme šťávou a pečeme ještě 30 minutes. To do crust. To už teplotu zmírníme na 180 °C.
Servírujeme s bramborami nebo bramborovým knedlíkem a steamed cabbage sour.
Finished.
Enjoy your meal.
---
 
KROK SUN KROK