Still just flesh? Pardon, This time it could be a mitigating circumstance, plníme papriku a tak mi připadá, we're on a meaty filling somehow accustomed. Ale nebude to nic tonoucího v omáčce. Actually, it's such a light dinner.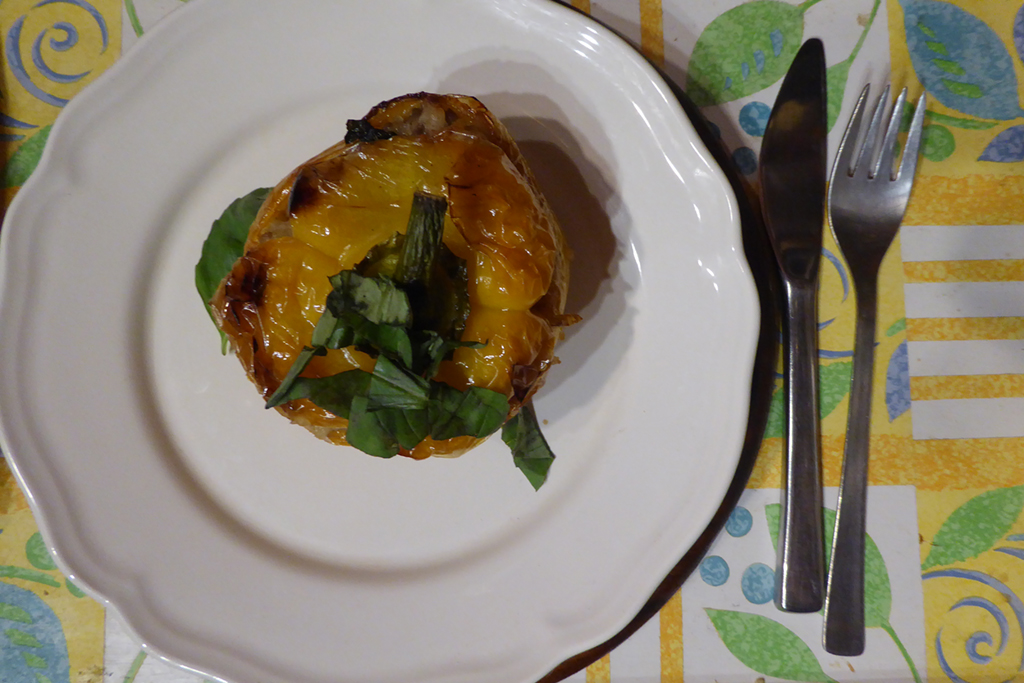 .
Need:
2 Large yellow peppers, the color was not so essential, takže můžete sáhnout po červené či zelené, I chose yellow
20 g butter
1 lžíce olivového oleje
olivový olej ve spreji
1 pórek (pro 2 will do some part 10 cm)
75 g Arborio rice
300 ml kuřecího vývaru
100 g mletého time
40 g grated Parmesan cheese
čerstvou bazalku
 
How do you:
Peppers cut off the top part, will serve as a lid. Papriky zbavíme semínek i membrány. Dáme na plech vyložený pečícím papírem, s spray of olive oil spray, posolíme a opepříme. Přiklopíme na ně vršky a pečeme 20 minut v troubě předehřáté na 190 °C. Potom sundáme vršky z paprik a ještě dopečeme asi 5 minutes. Teplotu zmírníme na 180 °C.
Mezitím si rozhřejeme máslo a olej na střední teplotě, přidáme na drobno nakrájený pórek a restujeme asi 3 minuty, to soften leek, pak přidáme rýži a promícháme. Resto about 2 minuty, to rice vitrified. A teď přidáme trochu teplého kuřecího vývaru a promícháme. A trochu redukujeme, another dose of broth repeat the process. Občas promícháme, let's rice takes time, to do, This should take about 20 minutes. so přiléváme, stir, redukujeme. Then add the minced meat, nasekanou bazalku a parmezán. Toss, osolíme a opepříme.
Do pečených paprik rozdělíme náplň a pečeme 20 minutes, then still to retract peppers "handsaw" vršků a necháme péct 5 minutes.
Before serving, sprinkle with chopped basil. Můžeme podávat takto nebo k paprice přidat list salátu.
Finished.
Enjoy your meal.
---
KROK SUN KROK