Pokud si dobře pamatuju, český způsob rizota se liší od toho italského, především tím, that at & nbsp; makes us a stew, So all together at once, and & nbsp; to Italian rather step by step. Tak si ho dneska uděláme, zase pro dva. Rice at & nbsp; cooking pretty much will acquire, tak na to myslete. Already, a risotto cooks & nbsp; Zdenek Pohlreich. Nechci s ním soupeřit ani srovnávat, ale ono to prostě jinak nejde, ať už se považujete za mistra světa, vaříte v luxusní restauraci nebo vaříte doma.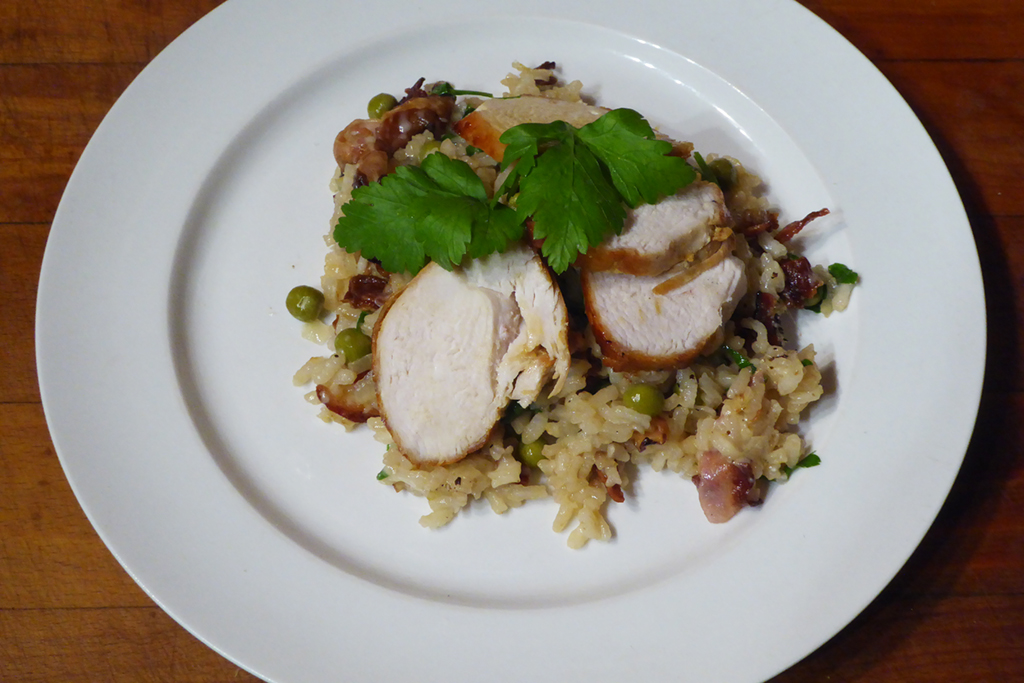 .
We need:
šálek rýže arborio
40 g butter
1 střední cibuli
1/2 šálku bílého suchého vína
2 until 3 šálky zeleninového vývaru
1 kuřecí prsní řízek
100 g bacon
1 lžíci olivového oleje
malou konzervu zeleného hrášku
parmazán
hladkolistou petržel
salt
pepper
 
How do you:
Pokud jste si právě uvařili zeleninový vývar, další krok nemusíte, pokud ho máte už ze včerejška, přiveďte do k varu, potřebujeme vývar horký.
Melt the butter over medium heat and & nbsp; in it fry the finely chopped onion until zesklovatí. Stir in rice and & nbsp; fry it, stačí tak 2 minuty. Pour in the wine and & nbsp; toss, víno necháme vařit, aby se zredukovalo tak na polovinu. Pak přidáme 2 cups vegetable broth and & nbsp; let simmer. Vývar přidávejte postupně, cup after & nbsp; the cup, nebudte pak trnout, jestli vám z toho nevyjde rýžová polévka. Vývar se dílem vyvaří, dílem ho absorbuje rýže. Pokud je potřeba, vývar ještě přidáme. Je skvělé, když rizoto nemá konzistenci kaše, ale pořád se ještě sype.
Meanwhile, in a pan heat oil and & nbsp; cook for him chicken breast fillet, tak 7 until 8 minut z obou stran, Meat should zezlátnout and & nbsp; at the same time well propéct. Fried steak aside the & nbsp; and in the same pan put into strips and diced bacon. Opečeme z obou stran. After & nbsp; removal of & nbsp; the pan bacon still překrájíme to smaller pieces.
Do rýže zamícháme kousky slaniny, hrášek, chopped parsley and & nbsp; like, 1/3 šálku parmazánu. Osolíme a opepříme. Mix and & nbsp; Cover. Necháme na teple ještě 3 minuty.
Kuřecí řízek nakrájíme na plátky. Lay slices on a plate, then with & nbsp; & nbsp risotto; dozdobíme parsley.
Finished.
Enjoy your meal.